Easy baking recipes for kids
Our top fun and easy baking recipes for toddlers & kids. With quick, no-bake and healthy recipes there are lots of ideas for getting kids in the kitchen.
If you've never baked with your kids or are just looking for something simple, then these easy baking recipes for toddlers and kids are a great place to start. We've got lots of recipes on the site to suit all occasions and level, but here you'll find our really easy baking recipes for toddlers and kids. From simple biscuit recipes for kids to try themselves to easy bakes and puddings that toddlers can help you to make, there should be something here for even the youngest, newest baker!
These recipes are a great place to start if you're stuck at home on a rainy day or are looking for activities for homeschooling children or preschoolers.
I've separated our top recipes into sections depending on what you're looking for:
Easy bakes with few ingredients that are really quick to make
No bake treats with no ovens for tiny chefs
Fun bakes with lots for your kids to decorate
Healthy bakes with less or no sugar
Easy traybakes for kids
Or you can easily browse our cookies, cake & cupcakes, breads, traybakes and no bake recipes.
Alternatively, If savoury recipes are more your thing, we've also got lots of easy lunch and dinner recipes your keen little chef can help with.
Before you start, if you've not baked with toddlers or children before read some of our top tips for making it less stressful and more fun!
Easy baking recipes with few ingredients
Children can have short attention spans, so I find the best, quickest recipes for toddlers have very few ingredients. The less you have to measure out the fewer opportunities there are for mess! All the recipes below have 5 ingredients or less.
With only 3 ingredients, fork biscuits are one of the easiest things you can bake, so are the perfect thing for getting children busy in the kitchen. With no eggs or rolling or cutting, they're one of the quickest bakes we have.
Easy cheese scones are a great, simple bake for children. With only a few ingredients they don't take long and are delicious straight from the oven.
These puff pastry cheese twists or cheese straws make a great snack or party nibble or appetizer and are so simple to make yourself. If you use ready rolled pastry these can be ready on the table in no time.
These Scottish rock buns are a tasty and easy bake that kids will love. My Granny always seemed to have a batch of rock buns on the go at her house so I was happy to introduce them to our kids!
This recipe for apple pinwheels combines apple cinnamon and puff pastry to make the perfect autumnal snack. And if you use ready-rolled puff pastry (we always do) you and your kids can have it ready in no time.
These melt in the mouth chocolate biscuits are so simple. With only 4 ingredients, they are the best, easy chocolate biscuits to bake with little kids.
easy no bake recipes for kids
Making no bake treats is a great place to start getting little kids into the kitchen. With no baking or ovens involved all you need is a little patience as they chill and set in the fridge.
This is a tasty twist on regular rocky road and the perfect treat for any mint lovers.
Mars bar slice is an easy no bake treat. With only five ingredients and no oven involved, it's the perfect introduction to cooking for little chefs.
Rocky road, tiffin, or hedgehog slice. Whatever you call it, it is one of the easiest things you can make with your kids. You can add anything you want to this no-bake treat to make it just as you like it.
Chocolate rice krispies are one of the easiest no bake treats you can make with little kids. Simply mix in chocolate to the rice crispies, decorate and leave to set. Easy!
Fun bakes kids will love
My kids always love baking biscuits, cookies or cupcakes with fun decorations or cute characters. Even if your kids don't bake the entire recipe with you they'll enjoy adding the decorations or finishing touches to these easy recipes.
These cute owl cupcakes are really easy to make and a huge hit with kids! Simply use some chocolate buttons to decorate your favourite chocolate cupcakes!
Cookies are a great thing to bake with your kids as they're so simple. These bear claw cookies are even more fun and sure to be a hit with any little one!
If your kids love decorating with sprinkles they will love his simple but fun vanilla sprinkles cake. It's deliciously moist with a little sweet icing on top.
These cute snowman cupcakes are the perfect winter treat for all the family! Use your favourite cupcake recipe and simply add some marshmallow snowman!
These cute bunny cupcakes are a simple bake for kids to enjoy. Even the littlest chefs will love the look of these adorable bunnies.
These scary monster cookies use some googly eyes to turn a simple cookie recipe into something really fun that kids will love. They're perfect for Halloween and any other time of year you fancy some fun and colourful baking.
Healthy baking for kids
Not all baking needs to be full of sugar and butter. As much as we love baking cookies and cakes, and my kids know they are just treats, if you're baking regularly it's good to find some recipes that are low in sugar and a bit healthier.
Oat cakes are really simple to make and a great bake for kids. They get to get their hands messy and, it's nice to bake something that's a bit healthy!
This recipe for bread sticks is so easy, it's a great bake for children to do. They'll love kneading the dough and forming the bread sticks (as well as eating them!) And who can resist the smell of fresh bread from the oven?!
Flapjacks are a great bake for little chefs. They're really quick and easy to make and you don't need to be too accurate. This recipe uses your favourite dried fruit and replaces the refined sugar with honey which makes them a great snack for little ones.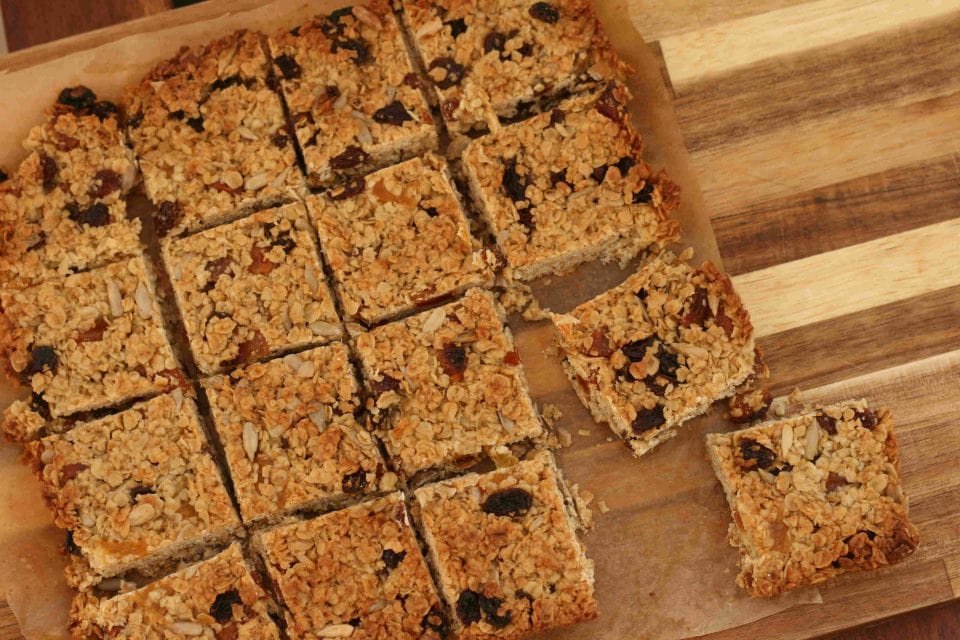 Delicious savoury muffins, perfect for kid's lunchboxes, picnics or served warm from the oven. They're quick and easy to make, just add your favourite vegetables and enjoy!
Easy baking recipes for kids: traybakes

Traybakes are the perfect easy bake for kids as you typically just mix the ingredients together before adding the mix to a baking tin. There's no rolling or cutting involved and no need for any special cake tin.
Chocolate flapjacks are the perfect, easy bake for kids and great for cake sales. Using storecupboard ingredients they are the ultimate comfort food.
Chocolate brownies are super easy for kids as you just measure everything into one bowl and mix it together! These springtime brownies takes our usual chocolate brownie recipe and make it a bit more special by adding pretty flowers made from Smarties.
An easy iced lemon slice. All the ingredients get mixed in one bowl which makes it a really simple bake for little kids to try.
Pin our easy baking recipes for toddlers and kids for later