Halloween monster cookies
Difficulty: Easy
Time: 30 minutes plus 10 minutes baking
I firstly just want to say that I love how these cookies turned out. I'd found some icing googly eyes at the supermarket and was waiting for an excuse to use them and this was it! It wont be the last though. I think they'll be a new permanent fixture in my baking cupboard!
Halloween is the perfect excuse to do some fun baking with kids and get to use up some irresistible eyes. There are lots of really simple things you can do and then just give them a fun spooky twist. We took an easy cookie recipe, coloured them and decorated them with our new googly eyes to make spooky Halloween monster cookies. The kids really loved making them and when we shared them with friends at a toddler group they were a real hit!
You could use your favourite cookie recipe or a pre-made cookie mix and just add the decorations at the end or follow the recipe below. I found the eyes in a supermarket but if yours doesn't have them you can find them online.
Serves: 15
Ingredients
100g (1/2 cup) butter, softened
125g (2/3 cup) golden caster sugar
½ tsp vanilla extract
1 large egg, beaten
150g (1 1/8 cup) self-raising flour
100g (1/2 cup) plain chocolate chips
Bake safe colouring
To decorate
Candy eyes
Smarties
Method
Preheat your oven to 190C/170C Fan/375F and line 3 baking trays with baking parchment/paper.
Mix the butter and sugar together
Get your little one to measure butter (100g) and pop it into a large mixing bowl or freestanding mixer. Measure the sugar (125g) and add to the mixing bowl.
Mix the butter and sugar together until they are evenly blended.
Add the vanilla extract and egg
Get your little one to help you measure the vanilla extract (1/2 tsp) and add to your mixing bowl. Crack the egg in a small bowl. Give it a little whisk and then add it gradually to your mixing bowl, beating it well between each addition.
Add the flour
Weigh the flour into a small bowl then add to your mixture. Finally add the chocolate chips and give it one final mix.
Separate the cookies into 3 different bowls (or however many bowls as coloured monsters you want).
Add a little food colouring in suitable monster colours (Hannah chose purple, orange and green) to each bowl and mix so it is well blended. We used Wilton food colouring as it is bake safe. Some cheaper supermarket colourings wont keep their vibrancy once cooked.
Make the Halloween monster cookies
Spoon large teaspoons of the cookie mixture on to your prepared baking trays. Make sure you leave enough room for them to spread.
Bake in the oven for about 8-10 minutes. They're ready when they are turning golden. I like them a little gooey in the middle still. If you don't cook them a minute or two longer. Don't leave them in too long though as they'll turn dark brown very quickly.
Decorate the cookies
Remove the cookies from the oven and, if you're little ones are helping to decorate them, carefully place them on to a wire rack. You can leave them on the baking trays if you're doing it yourself, being careful not to burn yourself!
Add some candy eyes and some smarties to the top of each Halloween monster cookie.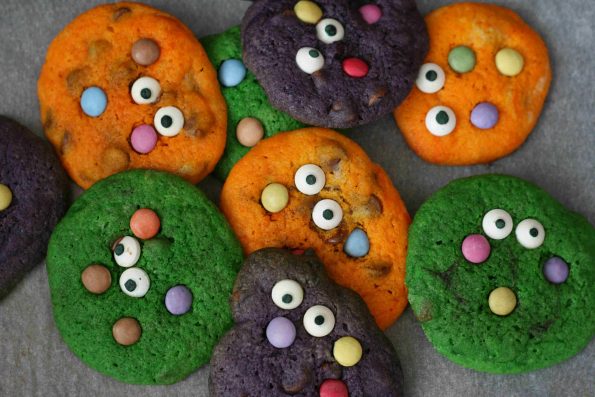 Enjoy! The cookies will keep for a few days in an air tight container.