Rocky road
Difficulty: Easy
Time: 30 minutes
Serves: approx 20 slices
We've made this before, it's so easy and tastes really indulgent. I wanted to make something quickly to take to Lewis' Playgroup Christmas party and as we had most of the ingredients in the house this seemed like the perfect option.
We've made ours a bit festive with some Christmas sprinkles, but the great thing about a rocky road is that you can add anything you want. We had to avoid nuts, but pistachios and cranberries would make this fabulously festive.
Ingredients
1 ½ packets of plain biscuits (we used Rice teas and Malted Milk)
250g unsalted butter
3 tbsp cocoa
1 tin condensed milk
300g milk chocolate (or a mixture of milk and white)
100g raisins
Mini marshmallows
Method
Line a 20cm x 20cm* tin with baking/greaseproof paper.
*If you don't have a tin exactly this size you might just need a little more/less chocolate to cover the top of your slice.
Crush the biscuits

Get your kids to pop these in a bowl and then give them a rolling pin to bash them until they are nicely crushed! Even the smallest children should be able to help with this.
Alternatively you can put one packet in a food processor until they are finely crushed before adding the second packet and whizzing them until they have broken into large pieces.
Set the bowl aside for now.
Make the butter/milk mixture
Get your child to cut the butter into small pieces and then add them to a small saucepan. Use a measuring spoon to count the cocoa into the pan. Finally, add the condensed milk then melt over a low heat mixing until everything has combined.
Mix everything together
Pour the melted ingredients into the biscuit bowl. Your kids can help you stir it all together until the butter mixture has coated the biscuits.
Add the raisins or anything else you are using (try shredded coconut, nuts, mini marshmallow) and give it all one last mix.
Pour it into your tin and flatten down with the back of a spoon.
Add the melted chocolate to the top of the rocky road
Break your chocolate into pieces and add to a small microwavable bowl. Your child might be able to help with this but Hannah found it a little hard. Cook in the microwave for 30 second blasts (stirring in between) until it's all melted. Pour over the top of your slice.
We did the milk chocolate and then white chocolate in turn which gave a slight marbled effect when we added it to the top.
Put it in the fridge to set (4 hours+), then cut into squares to serve.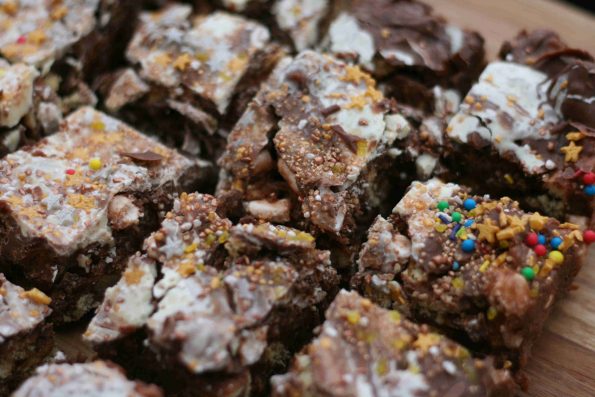 Linking to: