Easter baking
Easter is such a fun time to do some baking with kids.We've got the perfect bakes for you if you want to get in the kitchen to spend time and start some traditions with your children or use up some leftover Easter eggs!
We've got easy classic Easter recipes that are simple enough for kids to try like our chocolate nests or hot cross buns.
Easter can aso be a great time to take everyday bakes and turn them into something a fun with an Easter or springtime twist. Kids will love getting to make and/or decorate our Easter chick or Easter bunny cupcakes.
And if you just want to use up some Easter chocolate, why not try something simple like our Mini Egg rocky road or indulgent Creme Egg Easter fudge.
Find all of our Easter baking ideas below.
Rocky road is one of the easiest things to make with really small children and this one is full of mini eggs and creme eggs to is perfect for using up all your Easter chocolate.
Mini eggs add a fun Easter twist to these delicious cookies. A great, fun recipe for getting kids busy in the kitchen this Easter.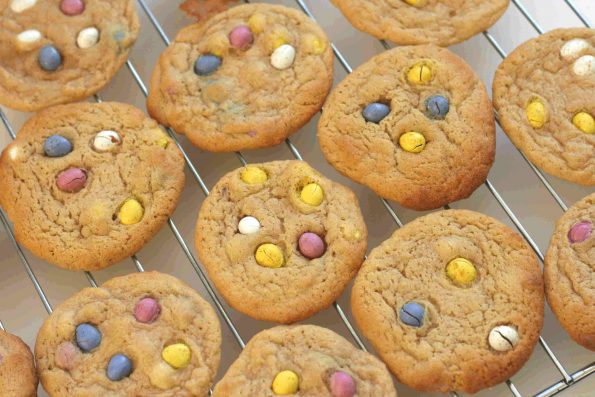 These cute Easter chick cupcakes are a fun bake for kids to make this Easter. They're sure to love turning simple vanilla cupcakes into something a bit special.
Hot cross buns are a delicious treat for Easter. Instead of buying them get your kids busy in the kitchen with this really easy recipe for hot cross buns.
Easter chocolate nests are by far the simplest thing you can bake with kids. They're the perfect treat for anyone looking for something quick and easy to make with kids this Easter.
These cute Easter bunny cupcakes are a simple bake for kids to enjoy this Easter. Even little chefs will love the look of these adorable bunnies.
This Easter fudge recipe is divine – soft, chocolatey fudge topped with cream eggs and mini eggs, it really does make the perfect Easter indulgence.
Brownies are one of the easiest things for kids to make – simply mix everything together in one bowl then bake. These ones are deliciously gooey on the inside but a little crunchy on top, exactly the way brownies should be. Turn regular brownies into springtime brownies with fun smarties flowers.
Turn an easy recipe for fork biscuits into something fun for Easter. Kids will love baking these super cute chick biscuits.
A delicious cinnamon tear and share kids will love getting involved in baking, monkey bread is a delicious sticky, sweet breakfast roll or treat.
These Easter cookie bars are deliciously gooey on the inside while a little crispy on top. With lots of mini eggs in them they're a great Easter bake for kids.
If you've bought or made too many hot cross buns over Easter and need to use them up, how about a twist on a classic – hot cross bun bread and butter pudding.