Difficulty: Easy
Time: 45 minutes plus 10 minutes baking plus decorating
Serves: 2 dozen + biscuits
Ingredients
200g (7/8 cup) unsalted butter, softened
280g (1 ¼ cups) caster sugar
¼ tsp vanilla extract
1 egg
400g (3 1/5 cups) plain/all-purpose flour
A pinch of salt
½ tsp cream of tartar
To decorate
Icing sugar
food colouring
spinkles
googly eyes
You might also like
Halloween spider cookies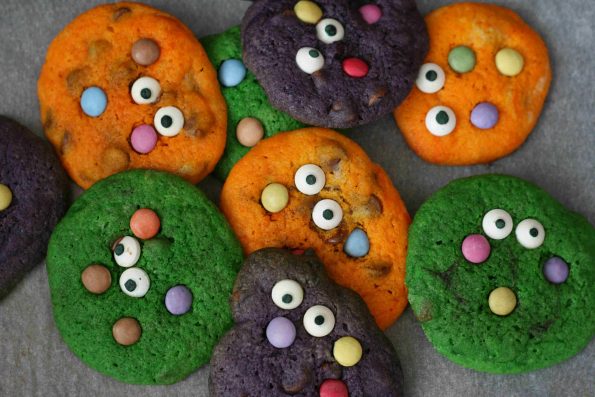 Pumpkin cake pops
Halloween is a great excuse to get kids baking in the kitchen. We love turning our everyday baking recipes into something a bit spooky and fun, like these monster biscuits. We just used our favourite sugar cookie recipe as its easy, bakes well, and is quite plain so the perfect base for lots of coloured icing and sprinkles!
You can do these biscuits in a few stages. We made the biscuits in the morning and decorated them after lunch on a day we didn't have much on. Or if you want to spare your kitchen from too much mess, you could make the biscuits in advance and just get your kids to help decorate them.
You can get the edible googly eyes in the baking sections of most supermarkets these days. We love using them for turning baking into fun monsters or animals like our recent teddy bear biscuits. Simple things like that turn regular baking into something quite fun for kids (or at least it does in our kitchen!)
Method
Preheat the oven to 170C/160C Fan /325F and line several baking trays with baking paper.
Mix the butter, sugar and vanilla extract
Get your kids to help measure out the butter (200g), sugar (280g) and vanilla extract (1/4 tsp) and pop them in a large mixing bowl or freestanding mixer. Cream them together until the mixture is light and fluffy.
Add the egg
Crack the egg in a small bowl and add to your mixture. Mix everything together. If you need to, use a spatula to scrape unmixed ingredients from the side of the bowl.
Add the dry ingredients
Measure the flour (400g), salt, cream of tartar (1/2 tsp) and add to the butter/sugar mixture. Mix everything together so it comes together into a ball of soft dough.
Make the monster biscuits
Dust your work surface with a little flour and roll out your dough until it is about ½ a cm thick.
Use a round shaped cutter to cut shapes out and place them on your baking trays.
Bake the Halloween monster biscuits
Pop the biscuits in the oven for around 10 minutes. They're ready when the edges are starting to turn a little golden but the inside should still be pale.
Leave them to cool on the baking trays for a minute or two before removing them and placing them on a wire rack to cool completely.
Decorate the monster biscuits
In small bowls, mix some icing sugar (around 2-3 tbsp) with a few tsp of water. Add your colours and mix well. We went with purple, orange and green as we thought they were the most 'Halloweeny'. Put some spinkles and eyes in separate bowls . We found some fun Halloween themed ones but you could use anything you have to hand or ever some mini M&Ms. Get your kids to spoon the icing on to each biscuit and decorate with the sprinkles/sweets and eyes.
Enjoy!
Please follow and like us: