Difficulty: Easy
Time: 45 minutes plus 10 minutes baking plus decorating
Serves: 2 dozen +

Ingredients
200g (7/8 cup) unsalted butter, softened
280g (1 ¼ cups) caster sugar
¼ tsp vanilla extract
1 egg
400g (3 1/5 cups) plain/all-purpose flour
A pinch of salt
½ tsp cream of tartar
To decorate
Icing sugar
food colouring
spinkles
googly eyes
You might also like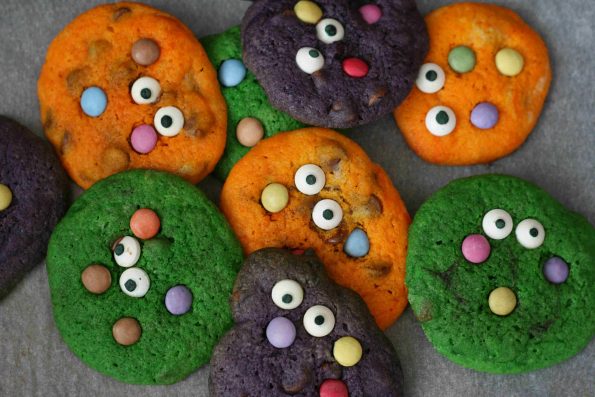 Halloween monster cookies
Halloween spider cookies
Monster biscuits
These spooky spider web biscuits are a fun Halloween treat. The biscuits are really simple to make and can lend themselves to any kind of decoration so we added some simple icing and used skewers to make them look like cobwebs. Hannah and Lewis really enjoyed making the biscuits and getting to decorate them – the cobweb is a simple effect that even little chefs can do – which gives them a real sense of achievement.
Method
Preheat the oven to 170C/160C Fan /325F and line several baking trays with baking paper.
Mix the butter, sugar and vanilla extract
Get your kids to help measure out the butter (200g), sugar (280g) and vanilla extract (1/4 tsp) and pop them in a large mixing bowl or freestanding mixer.
Cream them together until the mixture is light and fluffy.
Add the egg
Crack the egg in a small bowl and add to your mixture. Mix everything together. If you need to, use a spatula to scrape unmixed ingredients from the side of the bowl.
Add the dry ingredients
Measure the flour (400g), salt, cream of tartar (1/2 tsp) and add to the butter/sugar mixture. Mix everything together so it comes together into a ball of soft dough.
Make the spider web biscuits
Dust your work surface with a little flour and roll out your dough until it is about ½ a cm thick.
Use a round cutter to cut biscuits out and place them on your baking trays.
Bake the spider web biscuits
Pop the biscuits in the oven for around 10 minutes. They're ready when the edges are starting to turn a little golden but the inside should still be pale.
Leave them to cool on the baking trays for a minute or two before removing them and placing them on a wire rack to cool completely.
Decorate the spider web biscuits
In two small bowls, mix some icing sugar (around 2-3 tbsp) with a few tsp of water. Leave one bowl white and add some black food colouring to the other. You want the icing to be runny enough to spread on the biscuit but not too runny.
We used our icing piper to pipe our cobwebs on but, if you don't have one, just use a small freezer bag with a tiny hole cut in the corner.
To make the cobwebs get your kids to spoon on some white icing to a biscuit and spread it to the edges, then using the black icing pipe on a spiral or a series of circles. Get your kids to use a cocktail stick or skewer to trail a line from the middle of the biscuit to the edge. Repeat that a few times until the biscuit looks like a cobweb.
Enjoy!
Please follow and like us: