Crinkle cookies
Difficulty: Easy
Time: 30 minutes plus 4 hours+ chilling plus 10 minutes baking
Serves: 20+ cookies
Ingredients
60g (½ cup) unsweetened cocoa powder
200g (1 cup) white granulated sugar
60ml (¼ cup) vegetable oil
2 eggs
2 tsp vanilla extract
130g (1 cup) Plain/all purpose flour
1 tsp baking powder
For the coating
¼ cup icing sugar (confectioner's sugar)
You might also like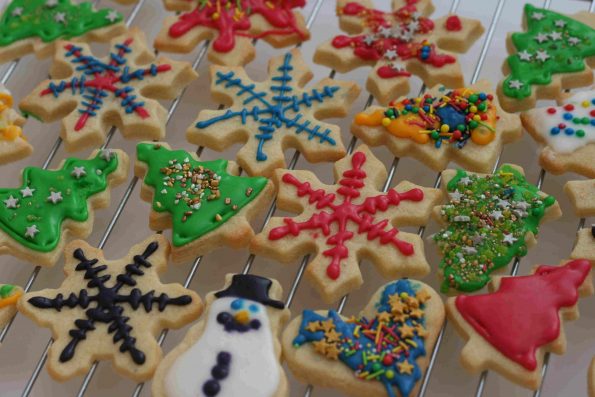 I saw these cookies last year but it has taken this long to get round to making them. They were definitely worth the wait though! As well as being really festive and pretty, they're deliciously fudgey and chocolaty on the inside and a little sweet and crispy on the outside. Everything you could want in a Christmas cookie so if you're planning to make any cookies or biscuits this festive season, be sure to make these!
Your kids will love getting to make the cookie batter, rolling them out and covering them in icing. Mine also loved watching them melt and crack and make the beautiful crinkle cookie shape in the oven.
The dough is really wet – far wetter than any cookie I've made before so it's important to let it chill in the fridge for at least 4 hours, but preferably overnight. This will harden up the cookie batter to make it easier to roll. It also stops them melting and spreading too much in the oven.
Method
Mix the cocoa, sugar and oil together
Get your kids to measure the cocoa powder (60g), sugar (200g) and vegetable oil (60ml) out and pour them into a large bowl or mixer.
Beat it all together using a hand held whisk or the k-paddle of your free-standing mixer until it is well incorporated.
Add the eggs and vanilla
Break the eggs into a small bowl, one at a time. Add them to your mixer and beat them into the mix. Add the vanilla extract (2 tsp) and give it a final mix.
Weigh the dry ingredients
In a separate bowl, get your kids to weigh the flour (130g) and the baking powder (1 tsp).
Add the flour to the wet cookie mix. Mix it together until you have a nice dough.
Don't over mix it, just do it enough so all the flour is incorporated.
Cover the bowl with cling film and put it in the fridge over night (or at least 4 hours). The dough is supposed to be wet – chilling it will help it harden so you can form the cookie balls.
Bake the crinkle cookies
Preheat your oven to 180C / 170C Fan /350F and line 2 or 3 baking trays with baking paper (parchment paper).
Measure the icing sugar (roughly ¼ cup) into a small bowl.
Use a teaspoon to get a bit of dough from your bowl. Get your kids to help roll it in to balls then roll in the icing sugar until the ball is fully covered. (be generous – we covered a few of them more than once).
Pop them on your baking trays leaving room for them to spread a little.
Bake the crinkle cookies in the oven for around 10 minutes. They're ready when they have spread a little, and formed the nice crinkle shape. They'll still be a little bit soft when come out of the oven but will harden as they're cool.
Leave them to cool on their baking trays for a few minutes before transferring them to a wire rack to cool completely.
Enjoy!
Please follow and like us: