Difficulty: Easy
Time: 25 minutes plus 2 hours baking
Serves: 8
Ingredients
4 large egg whites
225g caster sugar
2 tsp cornflour
2 tsp white wine vinegar
For the topping
300ml double or whipping cream
Fresh summer berries (about 250g +) strawberries, raspberries, blueberries etc.
You might also like
Berry yoghurt parfait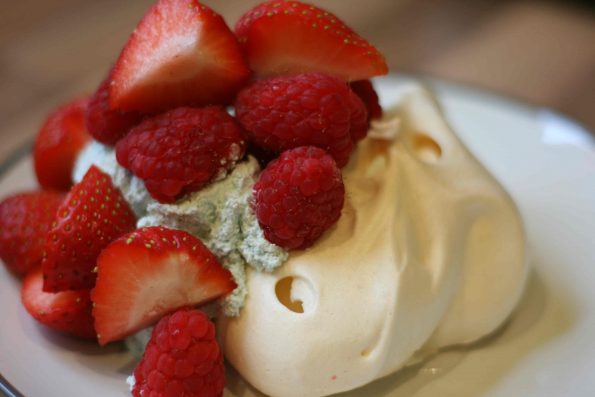 Mini pavlovas
Raspberry meringue roulade
Wimbledon is on, fruit picking season is in full swing, it must be time for some pudding made with strawberries and cream! First things first: A delicious summer berry Pavlova.
We've made a few meringues before, but this was the first big pavlova for a while. The original recipe is from Mary Berry, so we knew it was going to be good! It turned out to have the perfect mixture of soft gooey marshmallow on the inside with a delicious crunch on the outside – everything a good pavlova should be, in my opinion.
Method
Preheat the oven to 160C / 140C Fan / gas 3 and prepare a baking tray
Line a baking tray with baking paper and mark a 23cm (approx) circle on it.
Whip the egg whites
Separate the egg whites from the yolks. I do this bit myself as it's important you don't get any yolks in, but Hannah enjoyed helping.
Get your toddler to pour the egg whites into your mixing bowl or freestanding mixer. Whisk them until they are stiff and cloud like. It'll take a few minutes.
Add the sugar
Get your child to measure the sugar out into a small bowl. Keep the mixer running and add the sugar to the eggs one teaspoonful at time until it is all added.
Add the cornflour and vinegar
Measure the cornflour and white wine vinegar out into a small dish and give them a good mix. Pour it slowly into the meringue mixture.
Bake the Pavlova
Pour the meringue out on to your baking tray and get your little one to spread it out to cover the circle. Build up the sides a bit so they are higher than the middle (to keep your fruit in place later).
Pop in your preheated oven and immediately reduce the temperature to 150C /130C Fan /Gas 2.
Bake for about an hour until it turns a pale beige colour. Turn the oven off and let the Pavlova to become cold in the oven,(we left it for another hour). If you keep the oven door closed you'll get a more marshmallowy meringue.
Add the cream and fruit
Whip the cream until it's stiff. Keep an eye on it and stop just before you think you need to as it's really easy to over whisk it. If you do over whisk it (like we did) just add a little more cream or milk and mix it in.


Get your kids to help prepare the fruit if necessary -we chopped our strawberries in half.
Remove the cold Pavlova from the baking tray and baking paper and slide on to a serving plate. Top with your whipped cream and fruit.

Chill your summer berry pavlova for an hour before serving. Enjoy!
Please follow and like us: