Difficulty: Easy
Time: 30 minutes plus 45 minutes baking
Serves: 10
Ingredients
275g (1 ¼ cups) softened butter
375g (1 2/3 cups) caster sugar
4 large eggs
75g (5/8 cup) cocoa powder
100g (7/8 cup) self raising flour
100g plain chocolate chips
For the decoration
200g (2 cups) Icing sugar
Green food colouring
Sprinkles
You might also like
Snowman cupcakes
Mince pies
Yule log
I've seen Christmas tree brownies online and knew I really wanted to make them this festive season. I love brownies (who doesn't) and this is a really simple way of making them look a bit Christmasy.
We used our favourite brownie recipe so you could use any recipe or a packet mix. Our recipe is delicious and gooey on the inside but a bit crisp on the outside, the way I think brownies should be. It's also easy to make as you just throw everything into one bowl and mix it all together.
Method
Pre-heat the oven to 180C / 160 Fan and prepare a 30 x 23 cm baking tin
Get your toddler to grease the baking tin. I normally just tear off a corner of the butter packet or some grease proof paper and use that to spread butter in the tin. Once greased, line the base and sides with baking parchment.
Measure out the ingredients
Measure all the ingredients into a bowl. We used a small bowl to weigh everything out in turn and then added them into the mixing bowl. Face the scales towards you so you can see how much is going in and either use a spoon or pour the ingredients in.
Before putting the butter in get your toddler to cut it into small chunks. If it's slightly softened they should be able to do this with a butter or table (ie not sharp) knife.
Mix everything together
Using a stand mixer with the paddle attachment or a large bowl with wooden spoons, mix everything together until it is evenly blended.
Add the chocolate chips
The recipe calls for chocolate chips if you don't have any, you can use 100g of chocolate chopped into small pieces. Add them to your brownie mixture and give it one final stir.
Make the brownies
Spoon the mixture into the prepared tin, using a spatula spread the mixture gently into the corners and level the top.
Bake the brownies
Bake in the oven for 40-45 minutes. It's cooked when the top of the brownies have a nice crust or you can stick a skewer in the middle and it should come out clean. If it starts to look a bit brown on top, cover loosely with foil for the last 10 minutes.
Make the Christmas trees
Once it's fully cooled remove the brownie from the tin. Cut into Christmas tree shapes (ie triangles). I cut along the middle and then cut a zig zag to form roughly even triangles. There'll be a little but left over at the edges.
Decorate the Christmas tree brownies
Get your little ones to help you mix some icing sugar together with a spoon or two of water until it is a little runny. Add the green food colour and mix until you have a nice even colour.
You want the icing to be runny enough to add to your trees but not so runny that it spreads everywhere.
Using a small piping bag or if you don't have one a small zip lock bag with a tiny hole in the corner, pipe a zig zag of icing from the top of your tree to the bottom.
Get your little ones to add a star on top of the Christmas tree brownies and some sprinkles before it sets.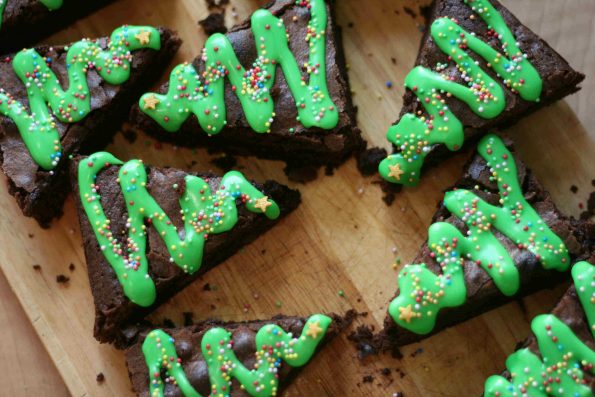 Enjoy!
Please follow and like us: