Christmas sugar cookies
Difficulty: Easy
Time: 30 minutes + 10 minutes baking
Serves: 2 dozen+ cookies
Ingredients
200g (7/8 cup) unsalted butter, softened
280g (1 ¼ cups) caster sugar
¼ tsp vanilla extract
1 egg
400g (3 1/5 cups) plain/all-purpose flour
A pinch of salt
½ tsp cream of tartar
To decorate
Icing sugar
Food colouring
Sprinkles
You might also like
Christmas tree brownies
Snickerdoodles
Christmas wreaths
Stained glass biscuits
There's something about Christmas that makes me think of baking and biscuits/cookies in particular. I'm not sure where the tradition comes from, perhaps it's the long dark afternoons, but it's one I'm fully on board with. This recipe is just a simple biscuit recipe which is easy to make and makes great shapes for kids to decorate. I knew Hannah and Lewis would be more interested in cutting the shapes out and decorating them so I made the dough in advance. The recipe makes loads so why not get the family together to make these and gift them to your friends/family?
We also used some homemade piping bags for the first time. They were simpler than I thought to make and the kids enjoyed using them. It was certainly less messy than spooning the icing on to the biscuits like we'd normally do.
Method
Preheat the oven to 170C/160C Fan /325F and line several baking trays with baking paper.
Mix the butter, sugar and vanilla extract
Get your kids to help measure out the butter (200g), sugar (280g) and vanilla extract (1/4 tsp) and pop them in a large mixing bowl or freestanding mixer. Cream them together until the mixture is light and fluffy.
Add the egg
Crack the egg in a small bowl and add to your mixture. Mix everything together. If you need to, use a spatula to scrape unmixed ingredients from the side of the bowl.
Add the dry ingredients
Measure the flour (400g), salt, cream of tartar (1/2 tsp) and add to the butter/sugar mixture. Mix everything together so it comes together into a ball of soft dough.
Make the Christmas sugar cookies
Dust your work surface with a little flour and roll out your dough until it is about ½ a cm thick.
Use festive cutters to cut shapes out and place them on your baking trays.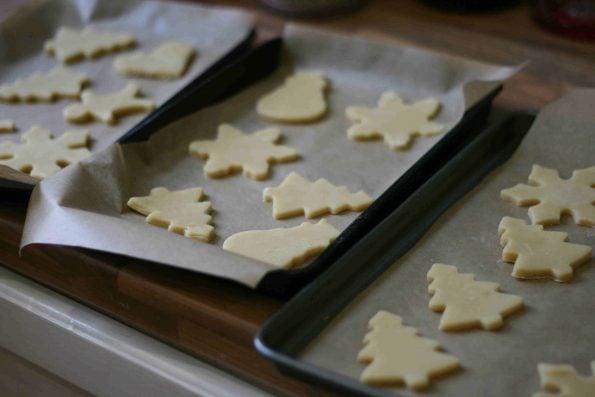 Bake the Christmas sugar cookies
Pop the cookies in the oven for around 10 minutes. They're ready when the edges are starting to turn a little golden. They should still be pale in the centre.
Leave them to cool on the baking trays for a minute or two before removing them and placing them on a wire rack to cool completely.

Decorate the Christmas sugar cookies
In a few separate bowls, mix some icing sugar with a few tsp of water. Add your chosen colours and mix well.
Put the icing in a small freezer/zip lock bag. We found the easiest way to do this was to prop it up in cup and pour/scrape the icing in. Cut a tiny hole in one corner and pipe your designs.
You could alternatively just spoon the icing on to the cookies, but it can be a bit messier.
Leave them aside to set.
Enjoy!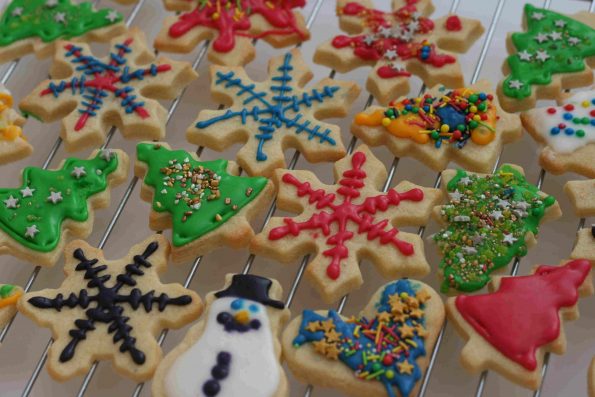 Please follow and like us: