Difficulty: A wee bit harder
Time: 30 minutes + 10 minutes baking
Serves: 24 cookies approx
Ingredients
225g (1 cup) unsalted butter, softened
350g (2 cups) soft light brown sugar
2 eggs
½ tsp vanilla extract
400g (3 1/3 cups) plain flour
½ tsp salt
2 ½ tsp bicarbonate of soda
225g (1 cup) dark chocolate.
You may also like
I got a new cookbook for Christmas from the Hummingbird bakery. There are loads of delicious looking recipes in it so I'm planning on using it a lot over the next few weeks/months. So while most people are starting their New Year's diets Hannah and I were making a big batch of chocolate chip cookies!
Method
Preheat the oven to 170C and line your baking trays with greaseproof paper
Mix the butter and sugar
Get your child to measure the butter (225g) and sugar (350g)out then add to a mixing bowl or freestanding mixer. Mix them together using the paddle attachment or a hand held mixer (or wooden spoons) until the sugar and butter are light and fluffy.
Add the eggs and vanilla extract
Get your child to break the eggs, one at a time, into a small bowl. Add them to your bowl, mixing it a little between each addition.
Turn the mixer down to a slower speed and get your child to help you measure the vanilla extract (1/2 tsp) into the bowl. Let them use the spoon on their own if they are able to, or help them and steady their hand while you pour if you need to.
Add the remaining ingredients
Measure the flour (400g) into a small bowl. If your child is able to, get them to help measure the salt ( ½ tsp) and bicarbonate of soda (2 ½ tsp) into the flour. Add these into your large bowl.
Mix everything together until you have a smooth dough. If you need to, use a spatula to scrape the mixture down from the sides of the bowl.
Get your toddler to add in the chocolate pieces to your dough mixture.
Give it one last mix so that everything is nicely combined.
Form the chocolate chip cookies
Using a spoon (or as Hannah preferred – your hands) add 6 dollops of dough mixture to each of your baking trays. These cookies spread a lot while baking so leave as much space between each cookie as possible.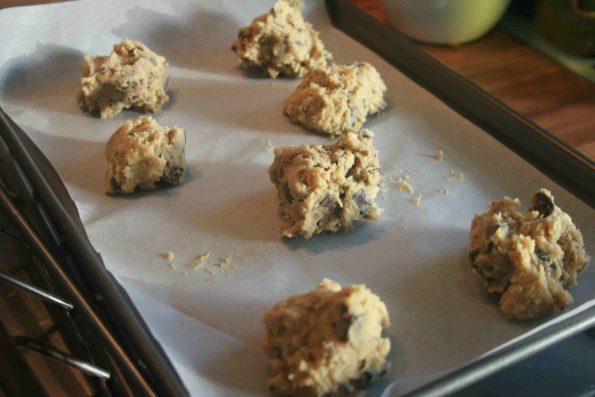 Bake the cookies
Pop them in the oven for roughly 10 minutes. They're ready when the edges have turned golden brown and they've flattened down.
Leave them on the baking trays to cool slightly, then move them to a wire rack to cool completely.
Please follow and like us: