Difficulty: Easy
Time: 20 minutes + 1 hours baking
Serves: 8-10 slices
Ingredients
270g ( 1, 1/2 cups) soft brown sugar
2 eggs
200g bananas (2 – 3)
280g (2 cups) plain/all purpose flour
1tsp baking powder
1tsp bicarbonate of soda
1tsp ground cinnamon
1tsp ground ginger
140g (1/2 cup) butter
100g (1/2 cup) raisins
You might also like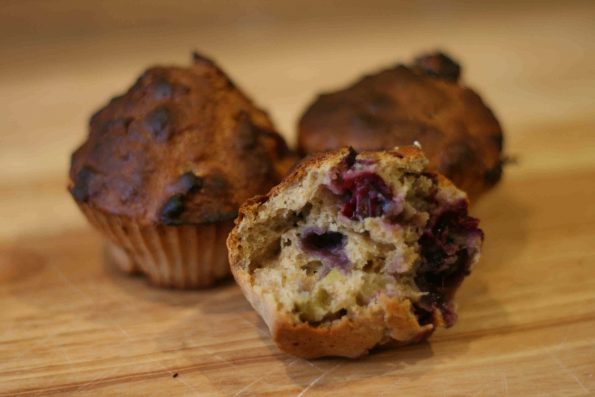 We make banana bread anytime we have too many bananas to get through. I've always used a recipe I found online years ago but this time we went with one from my new Hummingbird Bakery cook book. It was delicious and I think will become my new go-to recipe.
There were lots of fun bits for the kids to get involved in too, like mashing the bananas, and using the mixer – too firm favourites in our house!
Method
Preheat the oven to 170C and prepare your baking tin
Get your toddler to grease a 23 x 13cm loaf tin with butter and dust with flour.

Mix the sugar and eggs together
Get your child to measure the sugar (270g) into a small bowl then pop it into a mixing bowl or freestanding mixer.
Get your toddler to try cracking the eggs into a small bowl. Once you've got rid of any shell, pop them in the mixer.
Give everything a mix using a paddle attachment, (or if you don't have a mixer use a couple of wooden spoons or a hand held mixer) until its well incorporated.
Add the bananas
Get your child to peel and mash the bananas (200g)– this is the best bit of making banana bread! – then mix them into the sugar and egg mixture.
Add the dry ingredients
Get your toddler to measure the flour (280g) out into a bowl. While they are doing that, add the bicarbonate of soda (1tsp), baking powder (1tsp), cinnamon (1tsp) and ginger (1tsp)or if they are able to, get them to help you measure each of them out.
Mix everything together until it everything is well incorporated into the eggs and sugar.
Add the butter and raisins
Melt the butter (140g) in a small saucepan, and then add it into your mixture. Throw in the raisins (we don't bother measuring them accurately) before giving it one final mix.

Bake the banana bread
Pour the mixture into your prepared baking tin. Bake for around 1 hour. It's cooked when it is firm to touch and a skewer or sharp knife inserted into the middle comes out clean.
Leave to cook in the tin slightly, before turning out to cool completely on a wire rack.
Please follow and like us: