Mincemeat palmiers
Difficulty: Easy
Time: 10 minutes plus 10 minutes chilling plus 10 minutes baking
Serves: 20
Mincmeat palmiers
Ingredients
1 puff pastry, ready rolled sheet
411g jar mincemeat
You might also like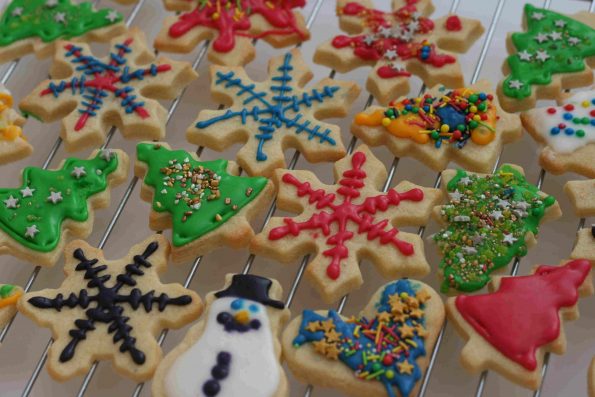 Christmas sugar cookies
This recipe for festive mincemeat palmiers is a great and easy alternative to mince pies. With only two ingredients, if you don't have time to make mince pies or want something a bit simpler to make with really little kids, these are the perfect Christmas treat for you.
To make things really easy we used a sheet of ready rolled puff pastry, if you want you can use a bloc
Method
Spread the mincemeat on the pastry
Take the pastry out of the fridge around ten minutes before you need to use it.
Get your kids to unroll the the pastry sheet, and using the back of a spoon spread the mincemeat all over.
Form the palmiers
Roll the pastry up from each long edge so it meets in the middle. Try and make the rolls as tight as possible.
Pop the palmier in the freezer for around 10-15 minutes so it can firm up a bit.
Preheat your oven to 180C / 170C Fan /350F and prepare two baking trays with baking/parchment paper.
Cut the palmiers
Remove the palmier roll from the freezer and get your kids to help cut it into roughly 1cm slices. Pop them on your baking trays.
Bake your mincemeat palmiers
Bake the palmiers in the oven for 12-15 minutes. They're ready when the pastry has risen and turned golden and the mincemeat is bubbling and has caramelised on top.
Remove them from the oven, leave to cool for a few minutes before removing from your baking tray to cool completely.
Serve and enjoy!
Please follow and like us: