Difficulty: Easy
Time: 30 minutes + 1.5 hours proving + 15 minutes baking
Serves: 12 rolls
Ingredients
450g strong white bread flour
2 tsp salt
1 tsp caster sugar
1x 7g sachet fast action dried yeast
50g butter, softened.
250ml lukewarm milk
1 egg
For the topping
1 egg yolk
1 tbsp water
Poppy seeds/sesame seeds
You might also like
Pitta bread
Homemade burgers
We've not made any bread for a while – waiting for the dough to rise can take a while which puts me off – but it's such a simple thing to do and the kids enjoy kneading the dough, so when we had a spare morning waiting in for a delivery recently we made some rolls together.
Although you do have to wait a while for the dough to rise, there are some easy steps for children to get involved with: they can have fun mixing, kneading the dough and shaping the rolls. And they were ready in time for lunch and were devoured by everyone which was a bonus. We'll definitely be making these again!
Method
Mix the dry ingredients
Get your child to measure the flour (450g) out and pour that into a large mixing bowl or freestanding mixer.
Add the salt (2 tsp), sugar (1 tsp) and yeast. As there is no measuring with the yeast, this is a good way for the youngest helpers to get involved.
Weigh the butter (50g) out. If it's not softened, pop it in the microwave for 5-10 seconds so it's soft, but not melted. This will make it easier to mix.
Rub the mixture together until it resembles fine breadcrumbs. We used our mixer so just used the paddle attachment and gave it a quick blast.

Add the egg and milk
Get your child to pour the milk (250ml) into a measuring jug, or a bowl on your scales set to ml. We put ours in the microwave for 30 seconds to make it lukewarm.
Make a well in the flour mixture then add the egg and milk.
Knead the dough
If you're using a mixer, add the dough hook and turn it on to mix for 5 minutes or so. If you are doing it by hand, turn the dough out on to a lightly floured work surface. Knead it for 10 minutes, until it is smooth and elastic. We did a bit of both – started in the mixer until it was almost done, then the kids had a turn doing it by hand. They wouldn't have had the patience to do it all by hand!
Pop the dough in a lightly oiled bowl and cover with cling film. Put it in a warm place to rise for an hour or until it has doubled in size.
Make the rolls
Line 2 baking trays with baking paper
Turn the dough out on to a floured surface. Get your kids to knock it back (punch it) and knead it for a few minutes.
Divide the dough into 12 equal pieces and shape into rolls.
We tried a few different styles. The kids were best at patting the dough into simple round rolls. If you have older children you could try a different type of roll: braids (make 3 long sausages pinch together at the top then make a plait); trefoils (divide the piece of dough into 3, roll into balls and stick together); knots (roll into a long snake and tie a single knot); cottage rolls (divide the dough into 1/3 and 2/3, roll into balls, pop the small one on top).
Put the rolls on a baking tray, spacing them well apart. Cover with oiled cling film and leave to rise in a warm place for about 30 minutes, or until it has doubled in size.
Bake the rolls
Preheat the oven to 220C/200C fan.
Mix the egg yolk and water (1 tbsp) together in a little dish. Get your toddler to brush on to the top of the rolls. Sprinkle with poppy seeds or sesame seeds if you are using them.
Bake the rolls in the oven for 15 minutes. They are ready when they have turned golden and sound a bit hollow if you tap them underneath.
Transfer to a wire rack to cool.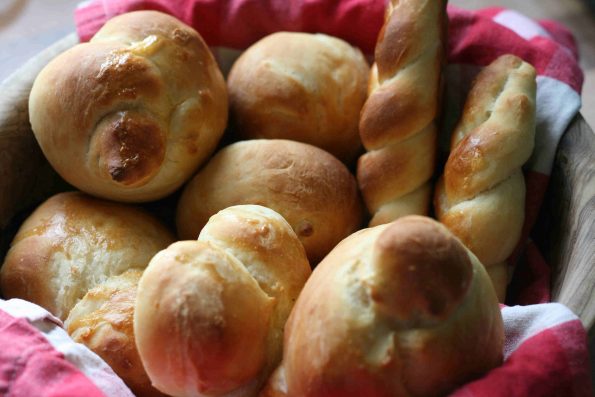 Please follow and like us: