Difficulty: Easy
Time: 20 minutes + 15 minutes cooking/assembling
Serves: 4 – 6
Ingredients
For the sauce
5 tbsp mayonnaise
2 tbsp tomato ketchup
1 tbsp sweet pickle relish
1 tbsp finely chopped shallot
For the burgers
700g steak mince
¾ tsp garlic powder
¾ tsp sea salt
¼ tsp black pepper
4 cheese slices
4 burger buns
4 lettuce leaves (romaine)
1 large beefsteak tomato cut into 4 slices
You might also like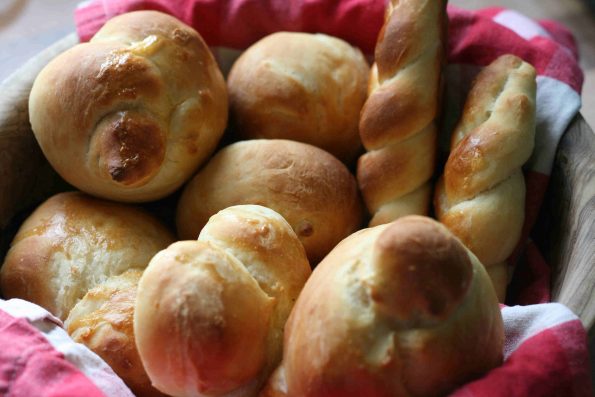 Homemade pizza
We've never made homemade burgers before but we've got a burger cookbook and a burger press and the kids like getting their hands dirty so on a quiet afternoon in the Christmas holidays we decided to give it a whirl.
There are a lot of things little kids can get involved in with this dish from preparing and moulding the burgers to making the sauce. And they should enjoy eating them as well!
Method
Mix the sauce ingredients together
Get your toddler to help you measure the mayonnaise (5 tbsp), ketchup (2 tbsp), relish (1 tbsp) into a bowl. Add the shallot and mix together. Set aside for later.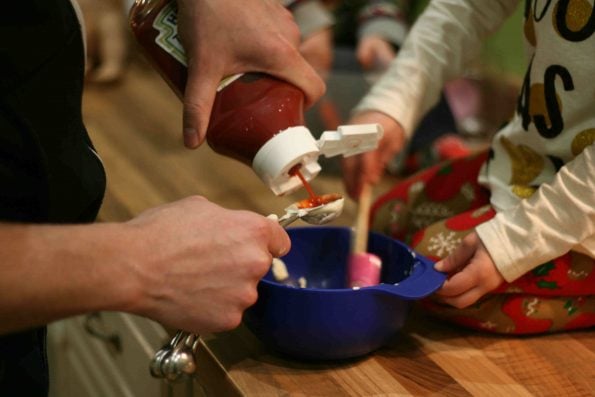 Make the burger patties
Add the mince to a bowl, then get your toddler to help you measure the seasoning: ¾ tsp garlic powder, ¾ tsp salt, ¾ tsp pepper.
Using your hands, mix everything together then form 4 -6 patties of equal size (depending how big you want them). We've got a burger press so the kids enjoyed using that. If you don't have one just press them together using your hands. Press your thumb or use a spoon to make a small indent in the middle of each of the patties to make sure they don't form a dome when you cook them.
Cook your burger patties
Grill, fry or BBQ your burger patties on a medium heat for 8-10 minutes. Turn them once so they brown on each side.
Add a slice of cheese on top of each burger for the last minute or so of cooking so it melts a bit.
Toast the buns.
Build your homemade burgers 
Put your burgers together on the buns with the sauce, lettuce leaf, and tomato.
Serve and enjoy!
Please follow and like us: