Difficulty: A bit of a faff
Time: 30 minutes + 1-2 hrs proving + 15 minutes baking
Serves: makes 6 pitta bread
Ingredients
350g white bread flour
1/2 tsp salt
1 tsp granulated sugar
1 tsp easy-blend yeast
210ml water
1 tbsp olive oil
You might also like
Homemade pizza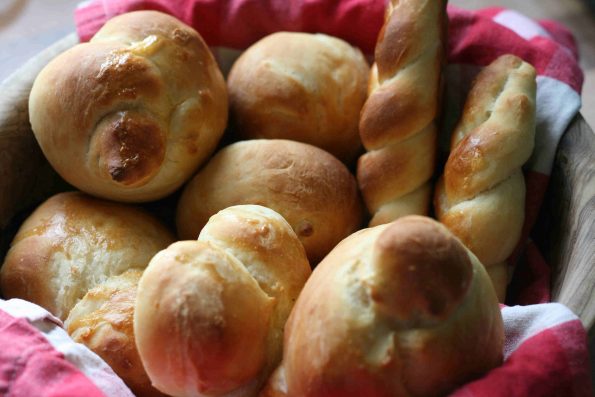 Shaped dinner rolls
Hot cross buns
We make our own pizzas quite often but I've not made homemade pitta bread since having the kids. It's a similar process so I thought we'd give it a go. It's obviously not as quick as opening a pack from the supermarket but it was a fun thing to do in a free afternoon and homemade bread always tastes nice!
Method
Mix together your ingredients
Get your toddler to measure the flour (350g) into a bowl.
Add the salt (1.5 tsp), sugar (1 tsp) and yeast (1 tsp) into different corners of the bowl. You need to be relatively accurate with these measurements so you might be better doing this bit yourself or just getting your little one to help you.

Pour the water (210 ml) and oil (1 tbsp) into the bowl a little at a time. Use a spoon (or your hands) to mix until all the flour comes away from the side and you have a soft dough. You might not need to add all the water – you want the dough to be soft, not sticky.
Kneed your dough
Put a little oil on your work surface to stop the dough sticking. Put the dough on top and start kneading. You'll need to do it for 5-10 minutes until it looks smooth. We probably did it for a lot longer though as Hannah was having fun. She even gave Lewis a quick lesson in how to knead although I'm not sure whether their poking technique is exactly conventional!
Once you're done, place it in a clean bowl, cover it with cling film and leave it somewhere warm until it has doubled in size.

Preheat the oven to 250C
Place a baking tray or baking stone on the middle shelf.
Make the pitta breads
Once the dough has doubled in size, pour it out on to a lightly floured work surface and knock it back (fold it inwards again and again until the air has gone – or just get your toddler to man handle it!)
Split the dough into 6 equal sized balls then roll each into a 3-5mm oval shape.
Remove the baking tray from the oven, sprinkle with flour and place the pitta bread on it.
Bake for 5-10 minutes. They're ready when they've started to colour – some of ours also puffed up really nicely into big pockets.