Rhubarb crumble
Difficulty: Easy
Time: 20 minutes plus 45 minutes baking
Serves: 4-6
It's rhubarb season and while we don't grow any ourselves our neighbours have an allotment and kindly gave us a big bundle of fresh, home-grown rhubarb at the weekend. There are lots of delicious puddings you could make with rhubarb but I couldn't see past making a tasty, crunchy, sweet dish of rhubarb crumble. There's also lots for kids to help with. Crumble is so simple to make – once you've measured out the ingredients either blast it in a food processor or get your hands dirty and rub to make the crumb. You kids might also like helping to chop the rhubarb if they are old enough.
Ingredients
175g (1.5 cups) plain/all purpose flour,
175g (3/4 cup) butter, softened,
175g (1 cup) granulated sugar
A bunch of rhubarb
3 tbsp sugar
Method
Preheat the oven to 170 fan (190C, gas mark 5)
Mix together the butter, flour and sugar
Get your toddler to measure the dry ingredients – flour (175g), sugar (175g) into a small bowl using a spoon.
Measure the butter (175g) and chop it into little pieces.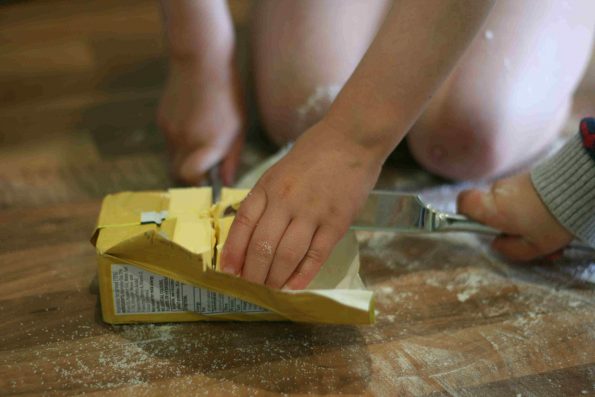 Add to a large mixing bowl or food processor if you are using one.
If you are making the crumble by hand (my kids preferred way) then get you hands dirty, rub the pieces of butter/flour/sugar together until you have a moist breadcrumb. Shake the bowl to make the larger pieces come to the surface and then rub them in. It works best if with cold hands and cold butter. Heat can make it go a bit clumpy but it'll still taste nice!
If you are short for time, or you kids don't like getting their hands messy, you can also mix it together in a food processor. SImply pulse it until it is a nice breadcrumb texture.
Prepare the rhubarb and place it in a baking dish.
Clean and chop your rhubarb into pieces about an inch long. If your child is old enough, they could help with this. Add them to a baking dish. If you find rhubarb quite tart, you can add a wee bit of sugar at this point to balance it out. We put in about 3 tbsp which was about right for us.
Pour over the crumble mix
Get your toddler to press down the rhubarb before adding the crumble on top.
Bake the rhubarb crumble
Pop the crumble in the oven for 35-40 minutes. It's ready when the top looks golden and the rhubarb has softened and is starting to bubble through the topping.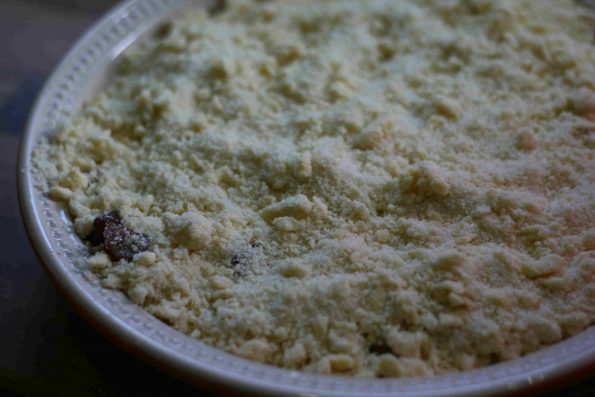 Serve with custard/ice cream and enjoy!