Raspberry jam
Homemade raspberry jam is really delicious and so easy to make. It's much nicer than shop bought jam and most definitely worth the effort.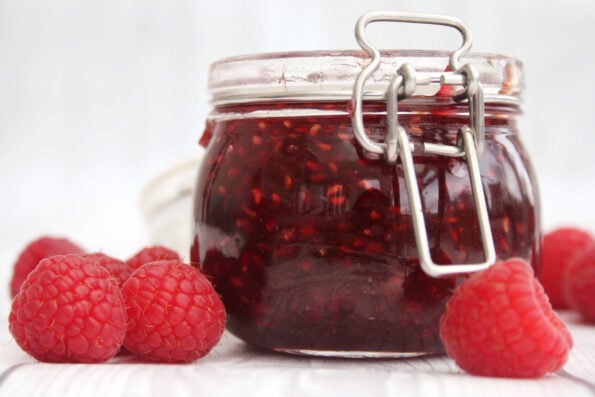 Homemade raspberry jam is so easy to make. If you've never made jam before it's the perfect place to start.
This raspberry jam is much nicer than shop bought ones and with only 3 ingredients it really is worth the effort.
We go fruit picking every summer and always end up with loads of raspberries so making a big batch of jam is my favourite thing to do with them.
How can kids help to make raspberry jam?
This is really a simple recipe that kids should be able to help with. The jam gets quite hot so it's best to get kids involved at the beginning before the sugar is boiling when its a bit safer.
I always enjoyed making jam when I was younger and my kids are the same. They enjoy measuring and mashing the fruit and pouring the sugar into the pan.
Testing the jam is ready is also an interesting job – it feels like a bit of a science experiment.
What sugar should you use in jam?
We usually use granulated sugar when we make jam. There's no need to use special jam sugar with added pectin.
Rather than adding pectin we use a little lemon juice to help the jam set. Berries naturally have some pectin in them so we never have an problem getting the jam to set.
How long does raspberry jam last?
If you store homemade jam properly it will keep in a cool dark place for a year or so. Once it's opened it will keep for a few months in the fridge.
How do I know if the jam will set?
You need to boil the jam for long enough to make sure it sets as it cools. Normally you'll need to boil it for around 5-10 minutes or until its temperature reaches 105C (220F).
If you don't have a food thermometer you can check its ready by putting a little am on a chilled plate and pushing it with your finger. If it wrinkles, you jam is ready and should set.
How do you sterilise jam jars?
Preheat your oven to 160C / 320C. To sterilise jam jars, start by washing them in hot soapy water. Don't dry them, but you can rinse the soap suds off.
Put the wet jars into the oven, with their lids, for around 15 minutes or while you cook the jam.
Remove the jars one at a time from the oven and ladle the jam into them, before putting the lid on. This isn't a job for kids to help with as the jars and the jam will be hot.
What can I make with the jam?
There's nothing I like more than some raspberry jam on fresh homemade bread. We've also got lots of fun and easy bakes that will taste great with homemade jam:
Jam tarts
Jam thumbprint cookies
Viennese whirls
Empire biscuits
Jam heart biscuits
Easy homemade bread
Tiger bread
English muffins
Useful equipment
You might need the following baking tools/gadgets to make this raspberry jam
Digital scales
Preserving pan
Jam jars
Jam thermometer
Wax discs
As an Amazon Associate I earn from qualifying purchases.. You will not be charged anything extra for this. Please refer to my Privacy Policy Page for more details.
Ingredients
2kg raspberries (approx)
2kg granulated sugar (approx)
Juice from one lemon
Knob of butter
* You want to use roughly the same weight of fruit and sugar. I don't tend to be too accurate – if I have 2.2kg of fruit I'll still just use 2kg of sugar.
How to make raspberry jam
Pop a small plate or saucer into your freezer to chill and sterilise your jars.
Cook the raspberries
Start by weighing your raspberries, then get your kids to tip them into a large preserving pan. Pop it on your hob and turn the heat on.
Let the raspberries warm for a few minutes. You can let your kids mash them with a potato masher until you have a nice raspberry pulp. Leave them to cook for five minutes.
If you want to make seedless raspberry jam (I like the seeds but I know not everyone does), at this point you can pass the raspberries through a sieve. Make sure you really push the pulp through the sieve with the back of a spoon until all that's left in the sieve is the seeds. Return the raspberries to your pan once you've sieved them.
Add the sugar and lemon juice
Get your kid to tip the sugar into the raspberries and squeeze in the lemon. Stir the sugar and lemon in then bring it to the boil.
Boil the raspberry jam for 5-10 minutes, then remove it from the heat and test it to see if it's ready.
If you have a kitchen thermometer you can use that to check whether the jam is ready. It's setting point is when it reaches 105C (220F).
If you don't have a jam thermometer, or if you'd like to double check the jam, pop a little bit of jam onto your chilled plate. Put it back in the freezer for a minute. Now push your finger through the jam – if it wrinkles when you do this its ready. If it doesn't wrinkle on top and still looks a little runny, boil the jam again for a few more minutes then check again.
When your jam is ready it might look like it has some scum or sediment on top. I find an easy way of getting rid of most of this is to melt a little knob of butter on the top. I find this gives it a nice shine.
Put your jam in jars
The last job is one for grown ups as the jars and jam itself will be hot.
Pour or ladle the jam into your jars – this is easier if you have a little jam funnel. If you don't have a funnel, you might prefer to ladle some of the jam into a heatproof jug then pour it into your jars from there. Pop a wax disc on top if you have them, the put the lid on and leave them to cool.
Pin it for later
Other recipes you'll love
If you like this recipe for homemade raspberry jam, you'll love our homeamde strawberry jam recipe and our other easy bakes for kids.