Baked doughnuts
Difficulty: Easy
Time: 30 minutes plus 8 minutes baking
Serves: 15 doughnuts
I've wanted to make doughnuts for a while but was nervous of doing it the 'proper' way using hot oil (for obvious reasons). It's easy to get mini doughnut pans these days though so I got some to see if baked doughnuts could give traditional ones a run for their money.
They were surprisingly easy to make and although not quite the same as you can get at your local 'Crispy Cream' they tasted pretty good. We decorated ours with icing and sprinkles but you could equally just toss them in some caster sugar.
Ingredients
150g (1 cup) Plain flour
1 tsp baking powder
½ tsp salt
110g (1/2 cup) golden caster sugar
120ml (1/2 cup)milk
2 eggs
20g (2 tbsp) butter (unsalted) (melted)
1 tsp vanilla extract
For the icing
250g Fondant icing sugar
1 tbsp Water
Food colouring
Sprinkles
Method
Preheat the oven to 160C / 140C Fan / 320F and grease the mini doughnut tins with oil or butter to stop the doughnuts from sticking.
Mix the dry ingredients together
Get your little one to help you measure the flour (150g), baking powder (1 tsp), salt (1/2 tsp)and caster sugar (110g) out and add to a large mixing bowl. Give it all a good mix.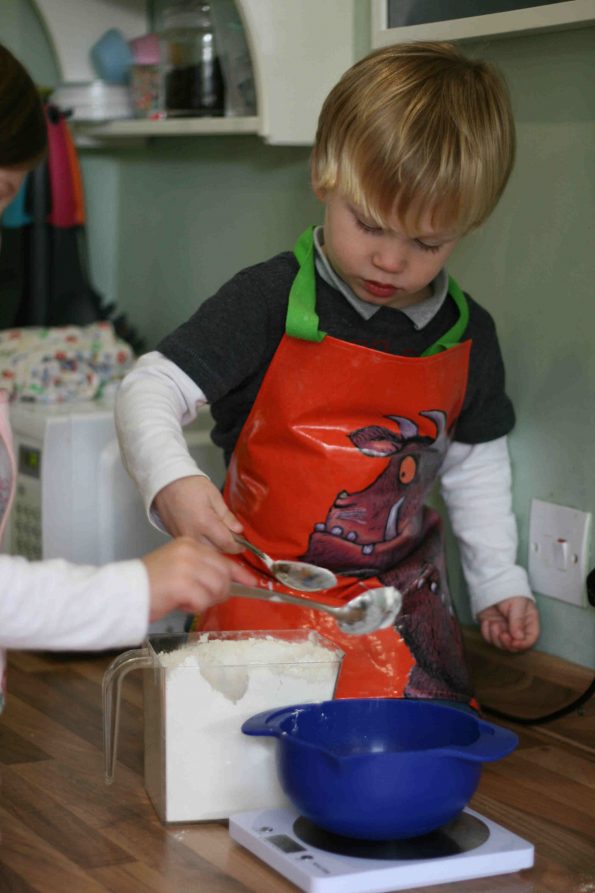 Mix the wet ingredients together
In a separate bowl, measure the milk (120ml), melted butter (20g), eggs and vanilla extract (1 tsp). Whisk it all together.
Mix everything together
Make a well in the flour bowl, and gradually pour the liquid in while your little ones stir it in. Stir until it is well mixed into a smooth batter.
Bake the doughnuts
Use a teaspoon to carefully spoon the doughnut batter into each of the holes in the tin. Only fill up to about ¾ full as the mixture rises when it bakes. I did this bit myself as I didn't think my kids could get the mix in the pan properly.
Bake in the oven for around 8 minutes. They're ready when they're golden in colour. Remove from the oven and leave in the tin for a few minutes.
Remove the doughnuts from the tin by flipping it over and gently tapping on the base. If they won't come out, carefully loosen the doughnuts from the tin with a blunt knife.
Decorate the doughnuts
Make the icing by placing the icing sugar in a bowl (we put it in three bowls as we were going to make three different colours). Add a few drops of water and a drop of colour and mix until it is smooth and runny.
Dip the top half of your doughnuts into your icing, place them on a wire rack and get your little ones to decorate with sprinkles.
Leave the baked doughnuts to set before serving.