Chocolate eclairs
Difficulty: A wee bit harder
Time:30 minutes + 30 baking
Serves: 12
I've wanted to make chocolate éclairs for a while but kind of assumed they would be too difficult – or certainly too complicated for the kids to get involved. I came across a recipe in Mary Berry's baking bible last week though and saw that they were actually simpler than you might think. I also figured that there weren't too many ingredients in them so if it went pear shaped we wouldn't be wasting too much!
As it turned out, they were much easier to make than I had first thought and Hannah really enjoyed making (and trying them). Ours might look a little wonky, but they tasted good and that's what counts!
Ingredients
For the choux pastry
50g (1/4 cup) butter, diced
150ml (¼ pint) water
65g plain (2/3 cup) (all-purpose) flour, sifted
2 large eggs, beaten
For the filling
300ml double (heavy) cream
For the icing
50g plain chocolate, chopped
15g (1 tbsp) butter
2 tbsp water
75g (3/4 cup) icing (confectioners') sugar, sifted
Method
Preheat the oven to 200C / 180C Fan / 400F and grease 2 baking trays or line with baking paper. Get a piping bag with at least a 1cm (1/2 inch) tip ready.
Make the choux pastry
Get your kids to help you measure the butter (50g) and water (150ml) and add to a small pan. Melt the butter over a low heat then slowly bring it to the boil.
Meanwhile measure the flour into a small bowl.
Once the butter/water mixture is boiling, remove it from the heat and add the flour. Beat it until the mixture forms a soft ball and leaves the side of the pan. Leave to cool slightly.
Add the eggs
Get your kids to break the eggs into a small bowl and give them a little whisk. Add the eggs a little at a time, beating really thoroughly between each addition so you have a lovely smooth shiny paste.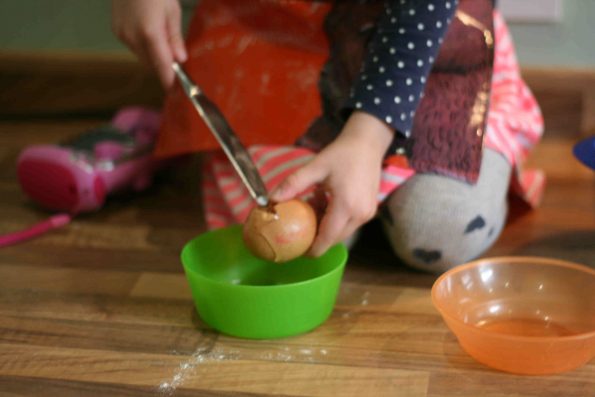 Make the eclairs
Spoon the mixture into your piping bag. Pipe the éclair mixture onto your baking trays in straight lines about 15cm or 6 inches long. Leave space between them to allow for spreading. Hannah enjoyed helping with this although not all her éclairs were particularly straight or even. We found it worked best if I still squeezed the piping bag while she just helped guide it.
Bake the éclairs
Pop the eclairs in oven for 10 minutes, then reduce the heat to 170C/150C Fan/325F and bake for a further 15-20 minutes. They're ready when they are well risen, crisp and golden brown.
Remove the éclairs from the oven and split them with a sharp knife down the side to let the steam escape. Leave to cool on a wire rack.
Fill the chocolate éclairs
Get your little one to help whip the cream with a hand held electric whisk or freestanding mixer with the whisk attachment. It needs to be just firm enough to pipe.
Fill each éclair with the whipped cream with a piping bag with a plain nozzle.
Only fill each éclair when you are ready to eat them. If they sit for too long with the cream inside they'll go a little soggy.
Decorate the chocolate eclairs
Make the icing
Melt the chocolate (50g), either in the microwave or a bowl set over a pan of hot water (making sure the bowl isn't touching the water).
Add the butter (15g) and water (2 tbsp) to the chocolate and continue to cook on a low heat until everything has melted. Stir occasionally.
Add the icing sugar and mix well until it's smooth.
Spoon the chocolate mixture over the top of each éclair and leave to set.
Enjoy!