Difficulty: Easy
Time: 20 minutes plus 10 minutes baking
Serves: 15 cookies
Ingredients
100g butter (softened)
150g soft brown sugar
1 egg
½ tsp vanilla extract
200g self raising flour
100g chocolate chips
2 90g packets micro eggs
You might also like
Easter cookie bar
Easter chocolate nests
Easter rocky road
Easter cookies are a great bake to do with kids. Once you've mixed everything together in the bowl you just need to dollop the mixture on to your baking tray. There's no need for any rolling or cutting out.
We've made a few different versions of cookies, but with Easter coming up we couldn't resist making some with an Easter twist. Our supermarket had some micro eggs – they're similar to mini eggs but smaller – so I thought they would be a fun way of jazzing up some plain cookies. I think these would work equally well with regular mini eggs but you may want to crush a few to put inside so they're not too big. I (and the kids) thought they look very cute. I hope you agree!
Method
Preheat the oven to 180C / 170C Fan /325F and grease or line three baking trays with baking or parchment paper
Mix the butter and sugar
Get your children to weigh the butter (100g) and sugar (150g) and add them to a large mixing bowl or freestanding mixer.
Beat them together using an electric whisk or the paddle attachment of your mixer until they are light and fluffy.
Add the egg and vanilla extract
We usually break the egg into a small bowl and have a separate small bowl for the shell, that way we tend to avoid getting shell in our mixture. Add the egg to your mixing bowl , along with the ½ tsp of vanilla extract.
Mix together until everything is well combined.
Add the flour
Weigh the flour (200g), then add to your mixing bowl. Mix together again until it is well mixed.
Add the mini eggs
Remove the bowl from your mixer if you're using one then get your child to pour in one packet of mini eggs. Stir together using a wooden spoon.
Bake the Easter cookies
Spoon large dollops of cookie mixture on to your prepared baking trays – we used a soup spoon and a teaspoon but an ice-cream scoop can also work well. Leave space between them to allow for spreading.
Place a few mini eggs on top of each cookie before you put them in the oven.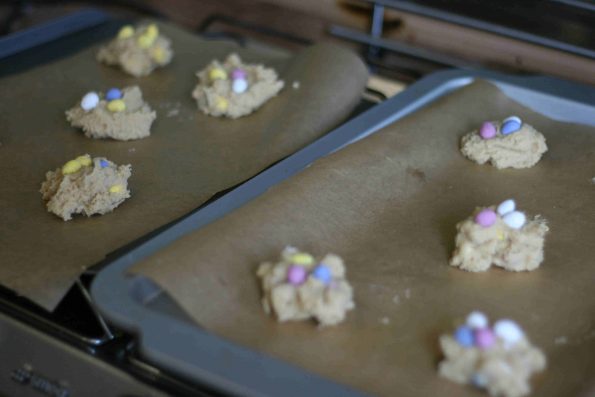 Bake the cookies for 8-10 minutes. They're ready when the cookies have turned golden and flattened down a bit.
Remove from the oven. I added a few extra mini eggs at this point where they cookies looked a bit sparse.
Leave your Easter cookies to cool on a wire rack.
Please follow and like us: