Difficulty: Easy
Time: 30 minutes + 45 minute baking
Serves: 8-10 slices
Ingredients

175g (1 cup) light muscovado sugar
175ml (3/4 cups) sunflower oil
3 large eggs, lightly beaten
140g grated carrot
(about 3 medium)
100g (1/2 cup) raisins/sultanas
grated zest of 1 large orange
50g (1/3 cup) walnuts
175g (1 1/2 cups) self-raising flour
1 tsp bicarbonate of soda
1 tsp ground cinnamon
1.5 tsp mixed spice
For the frosting
100g (1 cup) icing sugar
1+ tbsp orange juice
You might also like
Banana bread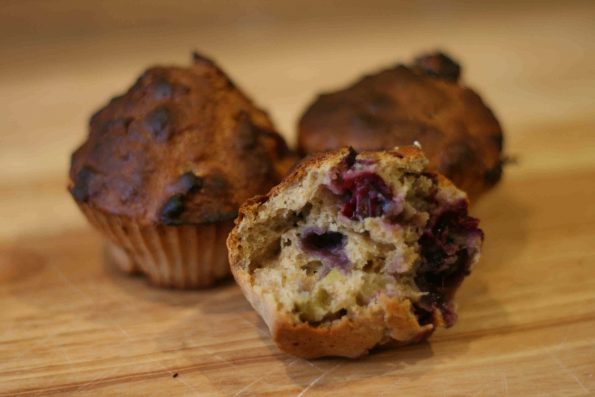 Blueberry and apple muffins
Monkey bread
My parents had a party recently so we thought we'd bake them a cake. My Dad likes carrot cake and while it's not my usual choice to make or eat, this one is really moist and tasty so it might just have converted me. It's a good one for your little ones to help with as it all just gets mixed in one bowl.
Method
Preheat the oven to 180C/160 fan
Line a cake tin
Oil the base and sides of an 18cm square cake tin, then line with baking paper.
Mix the ingredients together
Get your toddler to weigh out the sugar (175g) then tip it into a large bowl. Pour the oil (175ml) into a measuring jug (we used our scale set to ml to get the right amount), then add it to the bowl.
Add the eggs

Either add them directly into the bowl or crack them into a separate bowl first if you're worried about shell getting in. *Thanks to Hazel's Mum's chickens for these eggs – Hannah liked seeing where the eggs came from!
Light mix it all together with a wooden spoon.
Add the fruit
Grate the carrots (140g) and orange rind. Hannah can't quite manage this with our grater at the moment so her Dad helped. We used the fine side of the grater.
Weigh the raisins/sultanas (100g) and add them to the mix.
Chop the walnuts (50g) yourself then get your toddler to add them to the bowl.
Add the dry ingredients
Get your toddler to weigh the flour (175g) into a small bowl, then add the bicarbonate of soda (1 tsp) and spices (1 tsp cinnamon, 1 tsp mixed spice) then sift into the bowl.
Mix everything together until all the flour is combined. The mixture will be quite wet and runny.
Bake the carrot cake
Pour the mixture into your prepared tin, the bake in the oven for 40-45 minutes. When it's ready it'll feel firm and springy if you press it in the centre. A skewer or knife put in the middle should also come out clean.
Once its ready, take it out the oven and let it cool in the tin for 5 minutes. Take it out the tin, peel off the baking paper and leave it on a wire rack to cool.
Add the frosting
Mix the icing sugar (100g) and orange juice (1tbsp) together in a bowl until it's smooth. You want it to be runny enough to pour on the cake. We put the icing in a freezer bag, and snipped a small hole in the corner before piping it in a large zig zag on top.
Please follow and like us: