Beef cannelloni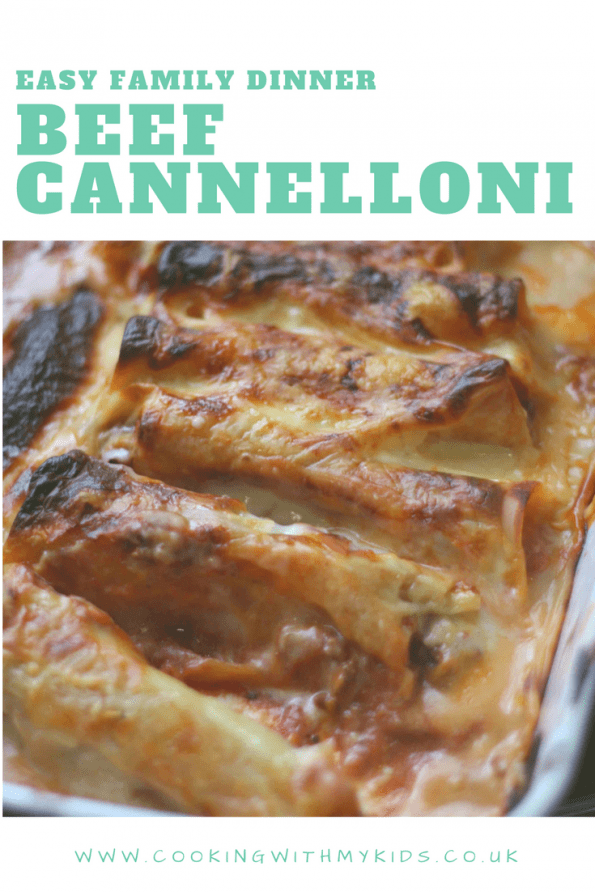 Difficulty: Easy
Time: 30 minutes + 40 minutes cooking
Serves: 6
Ingredients
1 large onion, chopped
2 cloves garlic, crushed
350g beef mince
1 carrots, chopped
1 pepper, chopped
2 400g tins chopped tomatoes
Beef stock cube
1 tbsp tomato puree
a splash Worcestershire sauce
1 tbsp Italian herbs
1 tbsp oregano
100ml red wine (or water)
For the cheese sauce
40g (2 tbsp) butter
40g (2 tbsp) plain flour
500ml (2 cups) Milk
1 tsp Mustard powder
100g Cheese (grated) plus extra for the top
1 x 400g jar passata
400g dried cannelloni tubes
You might also like
Sausage pasta
Bacon mac & cheese
Slow cooker beef ragu
Beef cannelloni is easier than you think to make especially if, like us, you use leftover or a batch of cooked ragu. Older kids can help make the cheese sauce, while kids of all ages will enjoy filling up the pasta tubes! It's become a firm favourite in our house and a nice alternative to lasagne..
Method
Make the mince
If you are making the mince from scratch, first heat some oil in a large non stick frying pan and fry the onion over a medium heat for a few minutes until it has softened. Add the garlic and cook for a further minute or two.
Add the mince and cook for 5 minutes or so until it has browned.
Stir in the carrots, peppers and tinned tomatoes. Add the stock cube, tomato puree, Worcestershire sauce and herbs and 100ml of water (or red wine) and mix everything together one last time. Simmer for 20 minutes while you make the cheese sauce.
Make the cheese sauce
Melt the butter in a small pan. Add the flour and stir into the butter until it is well combined. Cook for a minute. If you have older children you trust around the hob they can help stir the flour in.
Add the milk a little at a time stirring continuously as it thickens. I normally start with a tiny bit at first and only add the next bit when that's fully combined as I find it stops it going lumpy.
Add the mustard powder if you have any as it will bring out the flavour of the cheese more.
Remove from the heat and stir in the cheese. Again, this is a good job for your little chef. Stir it in until the cheese has melted.
Make the cannelloni
Preheat the oven to 200C / 180C Fan /Gas 6 / 395F.
I got Lewis to help stuff the cannelloni while Hannah made the cheese sauce so they were both kept busy and there was no squabbling over spoons or the usual shenanigans.
Get your little chef to pour half the passata over the base of a large oven proof dish.
Spoon the beef sauce into each cannelloni tube using a teaspoon and lay on top of the passata.
Pour over the cheese sauce, and then grate a little cheese over the top.
Bake the cannelloni
Bake in the oven for for 40-45 minutes. It's ready when the pasta is tender and topping is golden.
You can freeze the uncooked cannelloni wrapped well in clingfilm. Defrost thoroughly then cook for 50-55 minutes.
Please follow and like us: